This workshop introduces you to pendulum dowsing and the knowledge to take it beyond. Assisting you on your spiritual path, the workshop teaches you the importance of effective preparation to ensure you are clear to dowse and work with High self.
Once you have mastered the technique and acquired confidence, it enables you to receive information in a direct way. If you want quick and instant communication with your High Self, then dowsing is the answer.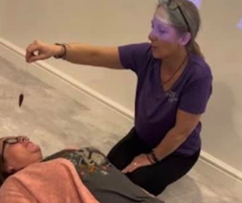 Learn the history and science behind Pendulums.
Learn how we can use Pendulums to help us to make decisions in our everyday life.
Learn about Dowsing charts and how to use them.
Connecting with Higher Self.
Measuring Life Force Energy of people and items.
Guided Meditation.
Activities to help you to work with your Pendulum.
You will receive; Workbook, Pendulum, Dowsing Charts, and a Tote bag. (R.R.P £20)
Refreshments and light lunch.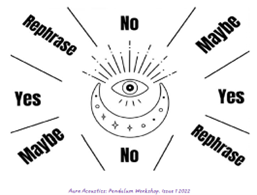 This workshop is for anyone who wants to work with pendulums.
This is a practical as well as a theory workshop. The workshop will quickly develop your knowledge of dowsing by teaching you techniques to enhance your communication, focus and trust in your further abilities. You will have the opportunity to practice with your pendulum; not just working on charts but also recognising changes in your own development.
Course duration: 3 hours. Investment £44.44
To enable a true personal learning experience this workshop has a maximum attendance level of 8 people.
If you have a group of 3 or more, we will run any workshop of your choice or design a personalised event to suit your needs. We are also mobile and will attend a venue of your preference.
If you are interested in attending a Pendulum workshop, please complete the form below and we'll be in contact soon!